The Larger Pieces.
While the scope of this book is limited to the smaller examples of this colorful form of embroidery, it would not be complete without mentioning the larger pieces. These included such items as copes, altar frontals, and wall hangings. Many examples survive in the various textile collections around the world, having been preserved by the Church over the centuries.
These large embroideries differ slightly from the smaller pieces. I will use my favorite piece, the Hildesheim Cope (see Figure 8) for an example.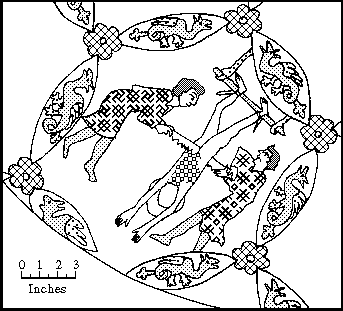 Figure 8: A Section of the Cope
The cope itself is of half-circle cut and measures 100 inches across its flat edge. As you can see from the sketch, the subject matter is grim. The martyrdom of the Saints is depicted in graphic detail in a series of panels completely covering the cope. It is immediately obvious that there is some difference in style between this example and those described in the preceding section. In the case of the cope the individual figures are outlined in stem stitch and are set off from the background of the scene by the colorful geometric patterns that fill them. I was lucky enough to be able to examine the cope up close, with no glass case interfering. The museum staff laid it out on a table for me and turned and moved it so that I was able to examine it in great detail. In places the embroidery has rotted or worn away, leaving the ground fabric exposed. In these places it is possible to see that the original construction lines are still in place. Unlike the smaller pieces that were worked by covering the entire area with a single repeating pattern, In the case of the larger works the design was drawn on first; possibly working from a sketch created by a professional artist[14]. The outlines of this design were then covered with stem and outline stitch. Finally, the areas were filled in with a variety of multicolored patterns. Whether or not the background was filled in varied from piece to piece. The background on the Hildesheim Cope is filled with a solid green brick stitch. On other hangings the linen ground fabric remains uncovered.
Because of the way these items are worked it is pointless to graph them, a more authentic approach would be to draw the scene you wish to embroider onto your fabric and then stitch it free hand.
---
Footnotes
[14] Virginia C. Bath, Embroidery Masterworks: Classic patterns and techniques for comtemporary application. (Chicago: Henry Regnrey, 1972). p. 10.